Singapore is the sanctuary of the super-wealthy. Being at the center of both commercial and cultural pursuits, Singapore has thrived by featuring the rich hotbed of Southeast Asian culture amidst a magnificent metropolitan background.
Year after year, the sovereign city-state welcomes millions of tourists to its lavish backyard. Whether you're staying for the weekend or settling for the long haul, availing of car rental services or hailing a ride from Uber and GrabCar remains the quickest way to get around.
Here's how you can make the most out of your Singapore experience:
Strategize your flight schedule
Singapore's Changi Airport is rated as the best in the world and can be deemed a destination in itself due to its world-class amenities and facilities. For this, you would want to book your flight to this civilian airport. They have pocket parks, gardens, cinemas, and even a swimming pool.
While there, you can look for tour services or travel kiosks that sell tickets to various tourist spots across Singapore. There are also city tours available at the airport. All these help you purchase tickets hassle-free so that you can plan your itinerary earlier. Travelers also suggest taking advantage of the cheaper drinks from duty-free shops inside the airport.
Brace your budget
Singapore charts one of the highest cost-of-living rates anywhere in the world, so it's best to manage your expectations. It's not impossible, though, to get the most out of your visit while still saving a few bucks. It's all about strategy.
First, take note of free attractions and cultural shows. This is an excellent avenue to get a glimpse of the vibrant blend of cultures in Singapore. Free admission to stage performances, flash street acts, and discounted tour packages all save you from spending more.
Second, resort to local supermarkets and neighborhood commercial centers for your daily goods as they charge cheaper. Avoid buying supplies from specialty stores and hotel boutiques.
Lastly, it's okay not to tip. It's not part of Singaporean culture, so you can hold onto your money after your hearty meal.
Head straight to hawker centers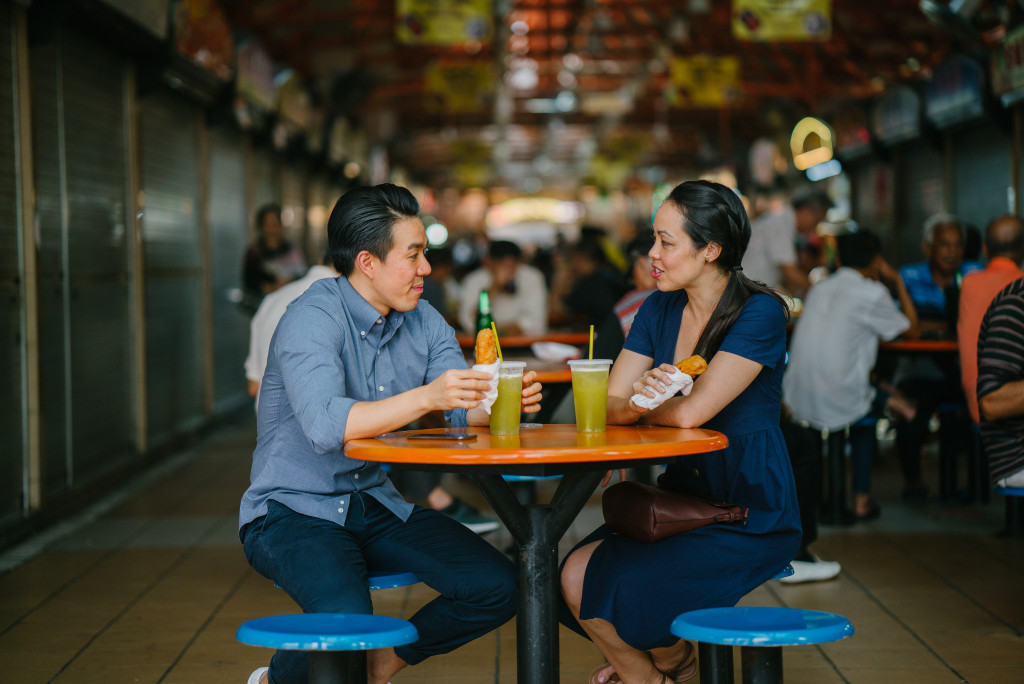 Speaking of hearty meals, hawker centers are abundant in Singapore. They are these outdoor food courts that cater to casual everyday diners. They're not half-bad too. They have ample seating, are cooled with the natural breeze, and of course, offer the best of authentic Singaporean cuisine.
You can head to the hawker centers in Chinatown, Maxwell Road, or at Old Airport Road. Sample a plate of Hainanese chicken rice, chili crab, or pork satay. Singapore is also home to the world's cheapest Michelin-starred restaurant: Liao Fan Hawker Chan, in Chinatown Market. Here, you can taste the best chicken rice and noodles.
Live like the locals
Soak in the Singapore culture by not only visiting the popular tourist sites but by being mindful of their customs as well.
First, you can dress as locals do. Located in Southeast Asia, Singapore enjoys its tropical climate for most of the year. Thus, expect it to get balmy, if not sultry all the way. Dressing appropriately means dressing light so that you don't drench in sweat as you tour around Singapore. Wear light, cotton-based shirts or breathable silk and linen clothes, comfortable sandals, and sun hats or caps to deflect the heat.
Lastly, pay attention to local policies. Singapore strictly prohibits smoking, littering, jaywalking, or chewing gum. This is how they maintain the cleanliness and security that both locals and tourists benefit from.
Now you can start building your itinerary through the great city of Singapore!