Outdoor structures such as pools, decks, and fire pits can add immense value to your property. According to real estate specialists, an average 14 x 28-foot inground concrete pool can increase your home's resale price by up to 8%.
With that being said, if you let your pool deck accumulate dirt and grime, its appearance, safety, and performance could be affected. This, in turn, may reduce your property's value in the long term.
Over time, heat, water, chlorine, and impact from constant foot traffic can cause decking to fade, splinter, or crack. Apart from looking unattractive, worn-out pool decks can also cause slips and trips. They are a serious safety hazard, as slip-and-fall injuries account for over one million hospital emergency room visits.
If you're looking to improve your pool deck's safety and performance, resurfacing is a reliable and cost-effective option. It can address minor damage, prolong the integrity of the materials, and give your pool deck a facelift. When done right, it can save you time and money while achieving the look of a new surface.
Why resurface your pool deck?
The deck needs to be kept in optimal condition both for safety and aesthetic purposes.
Resurfacing offers a simpler alternative to repairing cracks or completely replacing existing concrete. It provides virtually the same benefits of using brand-new material without the labor, costs, and downtime associated with a complete re-pour.
Most resurfacing systems are self-leveling. This means they require minimal work to create a flawless surface. You just have to ensure that the resurfacing product is equally spread on the entire surface.
How much does pool deck resurfacing cost?
The exact cost will depend on the size of the pool deck, the condition of the existing surface, and the design, colors, and textures you select. Generally, the wider the area, the more expensive it would be to resurface it.
Pool deck overlays can be stained, stamped, and scored for aesthetic purposes. The more complex a design is, the more labor-intensive it will be, increasing the overall cost.
Pool decking resurfacing is often charged per square foot. While costs may vary for every project, the average cost of a basic resurfacing job ranges from $6 to $10 per square foot. This would involve simple patterns and minimal customization. If you're looking to add borders or multiple stain colors or patterns, expect to spend between $10 to $15 per square foot.
Designs involving complex details such as custom scoring, hand-staining, and natural stone patterns could cost $15 or more per square foot.
How long should pool deck resurfacing last?
Resurfaced concrete has strong bonding properties and is highly resilient. With proper cleaning and maintenance, pool deck resurfacing can last approximately 10 to 15 years.
Common pool deck resurfacing options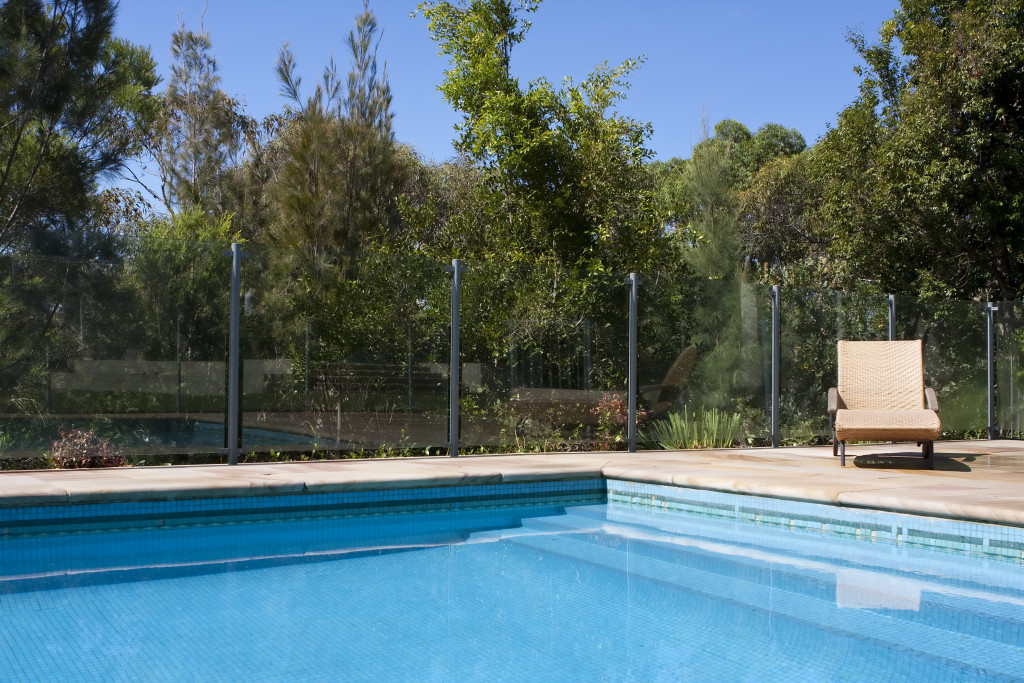 With several concrete pool deck resurfacing options available, it makes sense to know their differences before deciding which one suits your needs and budget.
Also known as a cool deck or knockdown finish, this overlay is versatile and easy to install, and it offers a smooth, slip-resistant finish. Spray texture overlay is an excellent option if you're looking to personalize your pool deck with colors, patterns, and aggregate effects.
Spray texture is commonly used due to its durability and cost-efficiency. Sealing it after installation can further extend its service life.
Installing a stamped concrete overlay is a great way to repair damaged concrete and beautify your pool deck. It allows you to replicate the look and feel of wood, slate, natural stone, or brick.
Stamped concrete overlay is applied over existing surfaces to hide cracks and completely transform the look of your pool deck without the costs of actual wood, brick, or stone. It may be more expensive than most resurfacing options, but it is still more affordable in the long run than a new pour.
Pool deck paint is the most inexpensive and widely used resurfacing option. It's easier to apply than most resurfacing products. The only downside is that it offers short-term results. The paint may need to be reapplied in just one or two years, which can result in higher maintenance costs. It is recommended to seal the paint for longer-lasting results.
At the end of the day, the right concrete pool deck resurfacing option will depend on your unique goals. Whether you're looking to improve your deck's visual appeal or hide existing damage, there's a right resurfacing system for you.
When choosing a pool deck resurfacing option, know that you are making a valuable and long-term investment. Make sure that they are designed to safeguard your pool deck against water damage, UV radiation, and general wear and tear from pedestrian traffic.