When you put your property up for sale, it's important to remember that first impressions matter. Your curb appeal is what potential buyers will see first, and it can be a make-or-break factor in whether they decide to schedule a showing.
Curb appeal is a crucial part of real estate, and it can be one of the deciding factors for home buyers. That's one of the first things buyers see when looking for a house. That's why, if you want top dollar for your home, it's essential to ensure that your property has high curb appeal.
But it can be challenging to maintain when your home is on the market. You must maintain it while waiting for buyers to come in and see it. Fortunately, there are some effective ways to keep your curb appeal high, despite being on the market. Here are some tips to help you:
1. Watch out for potential damages
While a property sells, its curb appeal becomes more important than ever. A potential buyer's first impression of the property is usually based on its appearance on the street, so it's vital to ensure that the property looks its best.
Homeowners can do a few things to maintain a property's curb appeal while it's on the market. First, it's important to regularly clean the gutters and remove any accumulated leaves or debris. This will ensure that rainwater flows freely away from the property and prevents water damage.
Second, it's important to keep an eye out for any potential damage to the property, such as cracks in the foundation or loose shingles. These should be repaired as soon as possible to avoid further damage.
Finally, mowing the lawn and trimming any hedges or bushes are important. This will create a neat and well-maintained appearance that will attract potential buyers. By following these tips, homeowners can help ensure that their property makes a good impression on potential buyers.
2. Keep up with regular maintenance
This is a no-brainer. Regular maintenance is the answer to ensure a property's curb appeal. When selling your house, it's important to keep up with regular maintenance tasks, such as mowing the lawn, trimming the hedges, and sweeping the walkway. This will ensure that your property looks its best and help you avoid potential damages.
Working with experts can also help you take care of your property. For example, if you're having trouble with your gutters, you can contact a gutter company to clean them out and ensure they're in good working condition. Pressure washing your siding and walkways can also make a big difference in how your property looks. It'll surely keep the area clean and give the property an overall refreshed look.
Scheduling a maintenance inspection before putting your home on the market is also a great way to identify any potential problems that need to be fixed. This will help you avoid any last-minute surprises and give you peace of mind knowing that your property is in tip-top shape.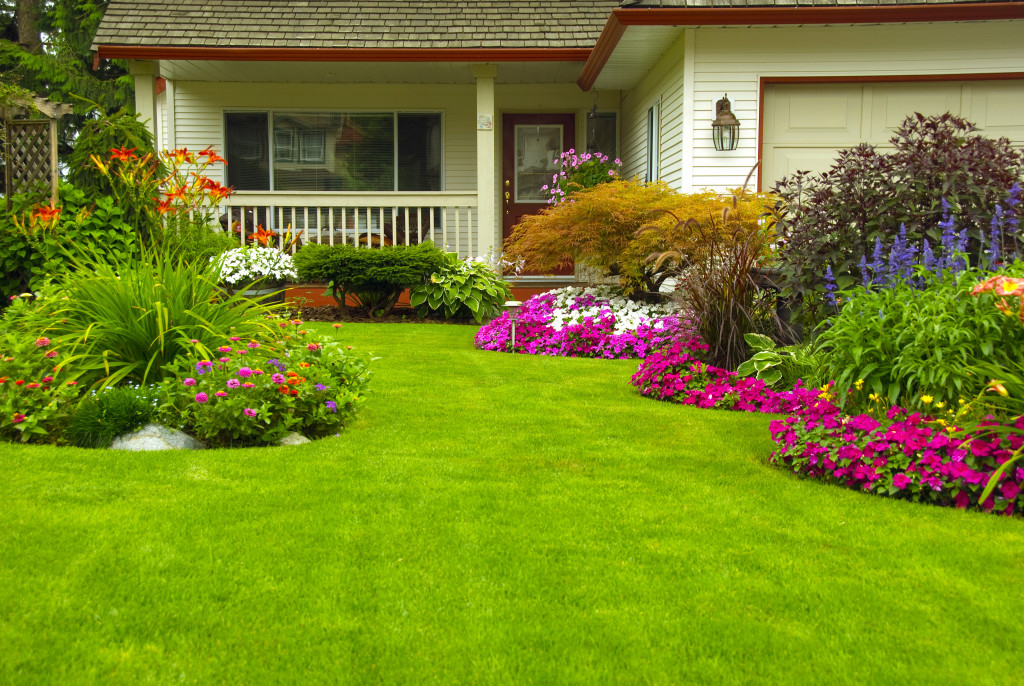 3. Make sure the landscaping is well-groomed
Maintaining curb appeal is important if you want to sell your property quickly and reasonably. Landscaping is one of the key elements of curb appeal, so it's important to ensure that your lawn is well-groomed and your garden is tidy.
If you have any dead plants or weeds, get rid of them as soon as possible. You should also trim any overgrown bushes and trees and ensure that paths and driveways are debris-free.
In addition, adding some colorful flowers or potted plants can help brighten up your property and make it more inviting. With a little effort, you can ensure that your property has the best chance of making a great first impression on potential buyers.
4. Flowers and plants can do the magic
Plants and flowers have aesthetic properties that can attract buyers and boost curb appeal. They can also make a property look more inviting and welcoming. If you're not sure what kind of plants or flowers to get, you can consult with a landscaping expert. They can help you choose the right plants and flowers that will fit your property's specific needs.
There are also a lot of garden trends that you can take inspiration from. This way, your garden will look up to date while you wait for buyers to come in. You can also add some personal touches to your garden to make it more unique.
Feature cozy aesthetic and rustic elements like flower gardens, stone pathways, and picket fences. Adding these elements to your property can make it more appealing to buyers looking for a cozy and charming home.
5. Repaint or touch up any areas that need it
Curb appeal is essential when selling a home. It's the first thing potential buyers see and can be a make-or-break factor in whether they even step foot inside.
One of the easiest and most effective ways to boost curb appeal is to ensure that the paint on the exterior of your home is fresh and in good condition. If you have any areas that need to be touched up, take care of them before putting or while your home is on the market.
A fresh coat of paint will make your home look well-maintained and inviting, two qualities that are sure to attract buyers. Plus, it's a relatively inexpensive way to give your home a major facelift. So if you're looking to boost curb appeal, start with a fresh coat of paint.
It's important to remember that curb appeal is a crucial factor in selling your home. By following these simple tips, you can maintain a high level of curb appeal, despite your property being on the market. This will help attract potential buyers and help you get top dollar for your home.