There are no signs of stopping for the real estate industry. It appears that some individuals and families are looking to make a home purchase amid the ongoing pandemic. On the other hand, some homeowners plan to undergo complete home renovation or even partial house remodeling in the new normal.
Whether buying or renovating a house, the home design must be a top consideration. This year's house trends are relevant to the pandemic and favorable to the future. Be sure to consider these trends before taking the plunge.
Fret not—here are some top house recommendations for you and your family. That said, here are seven home design trends for 2022 you might want to consider:
1. Multi-Purpose Spaces
The COVID-19 pandemic has forced individuals and families to stay indoors. As such, they have worked from home, studied in their bedroom, and done online business in their residential house. They've made the most of their living spaces. These include turning their bedrooms into a dedicated study area, living space into a home office, and bathrooms into Zen rooms. This year, it's wise to consider a home with multifunctional spaces. That way, your family can do a lot with your living spaces.
2. Home Office
Many businesses have adopted the work-from-home (WFH) policy during this pandemic. For this reason, homeowners have had to set up their home offices. They have chosen a particular space in their bedrooms for their workstation or turned a separate room into a home office. Even the empty area under the staircase has become a workroom. So whether renovating your house or buying a new home, have this home office in mind.
3. Homework Room
While adults have worked from home, children have resorted to online learning during this pandemic. They most likely attend their online classes inside their bedrooms or an ideal space in the living room. As such, it's a good idea to have a dedicated study area for your children. You can either set up a homework station or turn a part of their bedrooms into a learning space. If you opt for the latter, consider installing a loft bed and utilizing the space under it for their study room.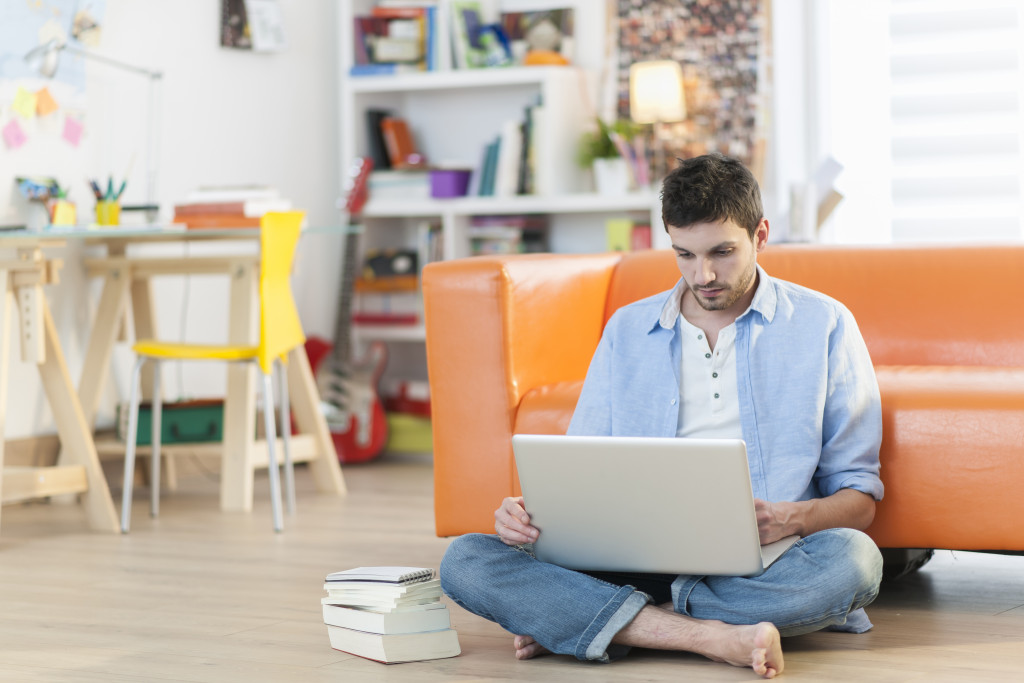 4. Home Gym
Did you know that the pandemic has led to the rise of home gyms? Yes, many individuals and families have chosen space for a home workout, invested in tools and equipment, and started exercising at home. Some homeowners have even gone as far as setting up a luxury house gym. You might want to consider having one for your home purchase or installing one for your home renovation this year.
5. Biophilic Design
The COVID-19 pandemic has led us to miss the outdoors. On top of this is to commune with nature and savor the bliss it has to offer. For this reason, many homeowners have started bringing nature into their houses. That's where the biophilic design comes into the picture. This home design entails incorporating nature-inspired elements. These elements include houseplants, natural lighting, skylights and roof lanterns, and nature-inspired visual arts and home decors. Hence, consider the biophilic design for your house renovation or home purchase.
6. Outdoor Landscape
Outdoor landscaping has become increasingly popular during this pandemic. Forbes considered 2021 as the Year of the Yard. It looks like outdoor landscaping projects will ensue this year. You can have pavement construction, hardscape installation, or a home garden. If you're looking to purchase a residential property, check the front and backyard as well. It can make or break your home purchase decision.
7. Sustainable House
The last on the list is to look for a sustainable house or transform your property into a green home. This concept entails sustaining a residential property for the long term while reducing its environmental impact. A green home incorporates smart home devices, energy-efficient house systems, renewable energy sources, and organic materials. As early as this year, you might want to consider acquiring or owning a sustainable home that's good for the future.
At this point, you now know what house type to purchase or renovate this new year. Be sure to consider the top home design trends recommended above, from multi-purpose spaces to a home gym to a sustainable house.
In addition, be sure to factor in your personal preferences, family's needs, financial resources, and other considerations. You can work with a home contractor for your house renovation or a real estate agent for your home purchase. In the end, there is nothing more fulfilling than turning your home vision into a reality!