No one ever said that home ownership was easy. There are always repairs and upgrades to be made, and sometimes it feels like you're never done. But some projects can be worth your time and money because they add value to your property in the long run. This blog post will discuss a few of the best home upgrades to consider if you want to increase your property value.
A Fresh Coat of Paint
A fresh coat of paint is one of the quickest and easiest ways to add value to your home. This is especially true if your home's current paint job looks tired or dated. A new coat of paint can brighten up your home and make it look more modern and appealing to potential buyers. When choosing a new color, be sure to pick something neutral that will appeal to a wide range of people. You don't want to turn potential buyers off with a color that is too bold or unique.
Here are a few other things to keep in mind when painting your home:
Use high-quality paint. Cheap paint will likely chip and peel over time, which will not only make your home look bad but will also require more frequent repainting. High-quality paint, however, will last longer and give your home a more polished look.
Hire a professional painter. If you're not confident in your ability to paint your home yourself, it's worth it to hire a professional. They will be able to get the job done quickly and efficiently and have the necessary equipment to do a good job.
Don't forget the trim. The trim around your doors and windows can often be overlooked, but it's essential to ensure it's in good condition. A fresh coat of paint on the trim will make a big difference in the overall appearance of your home.
Installing Granite Countertops
Your kitchen is one of the most important rooms in your home, so it's important to make sure it looks its best. One way to do this is by installing granite countertops. Granite is a durable and beautiful material that will instantly add value to your kitchen. It's also a material that potential buyers will be looking for when they're considering your home.
You may be thinking that granite countertops are too expensive, but you can often find them at a discount if you shop around. There are also many companies that offer financing options, so you can spread out the cost of the project over time.
Another thing to keep in mind is that installing granite countertops is not a do-it-yourself project. You will need to hire a professional to do the job, so be sure to factor that cost into your budget.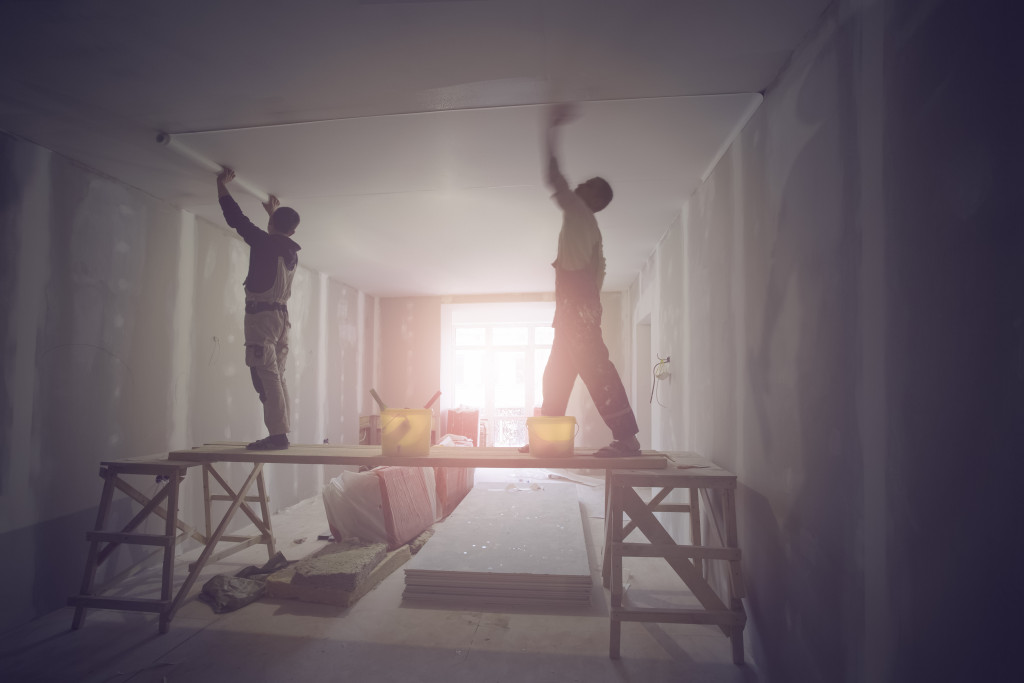 Bathroom Fitting
Every bathroom could use a little TLC, and bathroom fitting is a great way to add value to your home. Potential buyers will be turned off if your bathroom is outdated or in need of repair. But if you invest in bathroom fitting, you can make your bathroom look new again and increase the value of your home.
Your bathroom remodel doesn't need to be extensive. Sometimes, all it takes is a new vanity or toilet to make a big difference. You may also want to consider adding some storage solutions or updating the fixtures. Whatever you do, be sure to keep the overall design of your bathroom in mind. You don't want the end result to look too cluttered or busy.
Replacing Old Windows
Not only do old windows make your home look dated, but they can also be drafty and inefficient. Replacing your old windows with new, energy-efficient ones is a great way to add value to your home. New windows will not only look better, but they will also help keep your home more comfortable and reduce your energy bills.
If you're thinking about replacing your windows, be sure to do your research. There are many types of windows on the market, so it's important to find the ones that will work best for your home. You'll also want to make sure you hire a reputable company to do the installation.
These are just a few of the many home upgrades that can add value to your property. By investing in some simple renovations, you can make your home more appealing to potential buyers and increase its overall value. So if you're thinking about selling your home, be sure to keep these projects in mind. They could make all the difference in the price you ultimately receive for your property.