A deck and a patio are two worthy outdoor opponents that pose the most challenging question: should you construct a patio or a deck? If you plan to invest in your home's outdoor space, it's best to consider all the relevant factors carefully. Learn the difference between patios and decks before making a choice.
What are decks and patios?
A deck is an open outdoor platform or porch without a roof and often extends from the house outwards. It's usually made of composite wood material, wood, or vinyl. If you intend to source decking supplies in Melbourne, keep in mind that the common types of wood for decking include cedar, pressure-treated pine, and redwood.
If appropriately maintained, decks provide warmth and beauty, just like any other material. Indeed, you can stretch out on your deck without a cushion and still feel comfortable.
On the other hand, a patio is a paved area that can be attached or detached to your house. It's created and oriented with the landscape depending on the property owner's preferences. Generally, patios are versatile, as they can take any shape and be constructed using a variety of materials such as pavers, concrete, stone, pea gravel, brick, pebbles, and tile.
Most patios are set on a pebble base, sand, or a concrete slab. Note that patios are built around or at ground level, and you don't have to install safety railings. But before you begin your project, check with the local zoning regulations. Some cities require construction plans and an official approval along with periodic inspection reports during the patio or deck building process.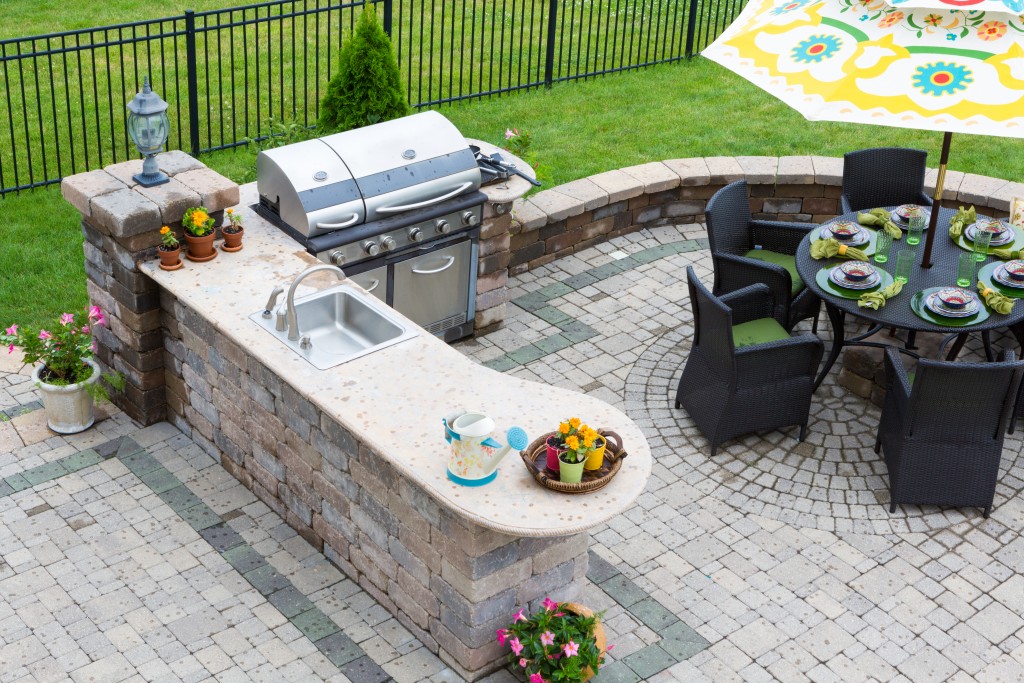 What are their similarities?
Both decks and patios are backyard or outdoor spaces that guide you from one space to another. Other similar traits include the following:
You can construct a pergola or cover over either for privacy and shade.
Both can accommodate fire pits, but you will need a fireproof material to protect your deck.
You can have an outdoor kitchen in both.
So, what's best for your house?
A good deck can boost your home's perceived value by about 10%. Besides, a potential property will settle for small square footage inside the house if they have enough, classy space outdoors. When it comes to costs, decks are less expensive compared to patios, and their construction allows you more creativity.
On the other hand, patios reign supreme in terms of return on investment. With a perceived increase in property value of about 12%, having a beautifully designed patio is an effective way of making the most of your outdoor space. A professionally constructed patio can last more than two decades with minimal maintenance costs.
Both decks and patios are fantastic options to boost the aesthetic and perceived value of your home. When making a choice, you need to understand that designing a functional space outdoors is a smart renovating decision. Weigh the benefits and limitations of each option. And even if you feel such an investment isn't good for your family, it's good for your house — your most important investment.